The best Maui wedding locations are outdoor venues. Mother Nature provides unique decorations with the beauty of the ocean, mountains, and rainbows.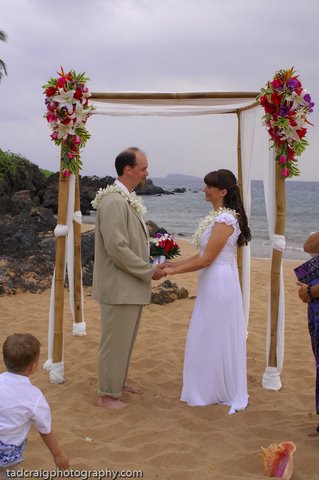 Brides and grooms often like to enhance the scenery by adding wedding chuppahs and wedding arches.
The chuppah consists of fabric draped over the top of four poles, creating a graceful canopy. Long a tradition at Jewish weddings, it has become wildly popular at all types of weddings. This elegant arbor is particularly suited to outdoor Maui weddings. It shelters the bride and groom in their own little castle as they exchange their marriage vows. And the eye-catching chuppah draws the attention of all the guests to the wedding ceremony, even as the blue ocean sparkles temptingly in the background.
The perfect complement to a wedding chuppah is the wedding arch.
Strategically placed arches transform the site into an ornate garden for guests to stroll throughout in style. A wedding arch is even an alternative to use as a focal point for the wedding service. Or it can provide an tasteful background at the head table or wedding cake table.
Beautiful in their simplicity, wedding chuppahs and arches can also be decorated in unique ways:
Drape them with additional fabric
Add ribbons and/or bows
Go Hawaiian with fresh tropical flower leis, garlands, or bouquets
Fasten fresh Maui palm branches to the posts
Bring in the sea with an assortment of shells
String long strands of white lights
Adorn with balloons for a whimsical touch
For an even more unique experience, do-it-yourself wedding planners have been known to design and make their own chuppahs or arches. This can actually be accomplished for a Maui destination wedding. Hardware stores and craft shops can usually provide the necessary materials. Of course, for those who do not want to construct their own, renting is the best option.
Some couples like the chuppahs and arches so much, they take it one step farther and rent a bamboo dining canopy or a white dining tent for the wedding reception. These can also be personalized through decorating. Strings of lanterns for lighting have a particularly dramatic effect. These structures are also great to use for the rehearsal dinner and maybe even a next-day brunch.
While the surroundings of outdoor Maui are breathtaking, on a special day it's nice to have a feeling home and structure, too. Wedding chuppahs and arches help to bring a little bit of the indoors outside with grace and harmony.
Please leave a comment below. Got an ideas for perfect Maui Hawaii weddings? Let us know and we'll provide an answer in our series of Hawaiian wedding tips.
Ready to Plan a Wedding on Maui or need Maui catering for an event on Maui?
{{cta('6e990028-e3b3-44a6-a4c1-80e08111e3e9')}}
Or, download a FREE Maui Beach Wedding Location EBook:
{{cta('c1354916-fcdd-4e60-8623-19868a9866a3')}}