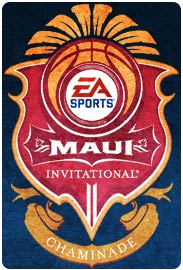 Surf and Big Time College Hoops on Maui? Make your Maui vacation plans and get ready for the top college basketball talent returning to Lahaina in the annual EA Sports Maui Invitational Basketball Tournament! Need tickets to the November tournament at the Lahaina Civic Center over Thanksgiving week? Head to my Maui restaurant this Friday and Saturday! We not only provide event catering for the Maui Invitational tournament, CJ's Deli & Diner is the only west Maui location where tournament tickets are being sold.
On Friday and Saturday, Sept 21 and 22, tickets for the 2012 Maui Invitational Tournament will be available for sale at CJ's Deli & Diner Comfort Zone restaurant in Kaanapali. Located just off the highway in the Kaanapali Fairway Shops and only a short walk or a quick drive from all the Kaanapali resorts or anywhere else in West Maui, CJ's is always easy to get to. Use this map for directions to CJ's Maui restaurant in Kaanapali. We open for breakfast at 7 am daily. Ticket sales won't get started until 9 am both days. Stop in to enjoy a home cooked Maui breakfast before you queue up to buy game tickets! Tournament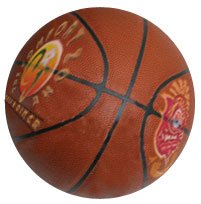 tickets will be available until closing on Friday, the 21st (or until we sell out!). Ticket sales will resume on Saturday, beginning at 9 am and ending at noon on September 22.
Maui Invitational Basketball Tournament Details
This year's EA Sports Maui Invitational Tournament kicks off on Monday, November 19 with the Butler Bulldogs tipping off against Marquette Golden Eagles at 10:30 am HST. The Mississippi State Bulldogs face a formidable first round opponent in their tournament opener against Tar Heels from North Carolina. Texas ­­Longhorns play the always unpredictable Chaminade Silverswords in the third game of the day. USC Trojans get their tournament play underway against Illinois Illini, who will be playing late in the day after their University of Hawaii game in Honolulu on the 16th.
Tickets are sold on a cash basis only, no phone calls or credit cards. Two tickets limit per person, per game. Cost of tickets are as follows:
Single Game General Admission (East End Bleacher Seats):

Day 1, Tournament Games 1, 2, 3, 4 on Monday, November 19 and tickets for Weds 3rd place game, will be on sale for $55 per ticket.
Day 2 and 3, Tournament Games 5, 6, 9 and 10 will be available at $25 per game ticket.
Day 3, Semifinals and Finals Games 7, 8 and 12, will be on sale for $80 per ticket.
Tickets will also be available for All Day Reserved Seats in the North GrandStand at $185. per day.
If you can't get to West Maui to buy your tickets, Hi-Tech Surf Sports in Kahului, Mulligans in Kihei or Anthony's Coffee in Paia will also be selling 2012 Maui Invitational Basketball Tournament tickets.
Check out the 2012 EA Sports Maui Invitational tournament bracket: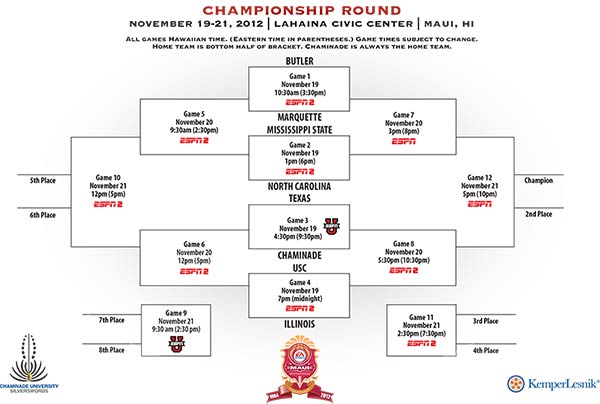 Click the EA Sports Maui Invitational Tournament Bracket above for a larger view!
Keep up with the latest tournament news with @easportsmauiinv on Twitter and the EA Sports Maui Invitational tournament website. Thanks to the tournament's PR team at Kemper Lesnik for the great effort they put into promoting and producing this fantastic Maui event.
Ready to request a quote for your own catered event on Maui? It's easy! Just hit the button below and supply us with a few details about the Maui catered event or wedding you are planning and we'll create a sample catering quote customized for your Maui catered event:
{{cta('a7b64553-9414-40e5-8a72-6b9488f4baff')}}