With Labor Day holiday weekend fast approaching and after a conversation discussing the fine art of hand crafted Mojitos for a Maui wedding reception, I asked my favorite Maui bartender
for her Mojito recipe.
We'll get to that Mojito recipe in a moment. First, an explanation about the noted Mojito for wedding reception conversation. I had received a request from a Florida couple planning on getting married in Hawaii. The bride and groom 'to be' were inquiring to ensure their favorite concoction would be created using only the finest ingredients. They also wanted to know if we would be able to individually prepare a Mojito cocktail for each of the guests? I assured our licensed bartenders would use only fresh locally grown limes and mint, the highest quality rum (they supply) and finish the Mojito with Hawaiian grown sugar in the raw. I explained many couples getting married on Maui request a local 'island twist' to the classic Mojito. We accommodate with our 'Maui Lilikoi Mojito', made with locally grown fresh Lilikoi! Explaining we garnish our Mojitos island style using a raw Hawaiian sugar cane stick as the stir stick convinced the couple my Maui bar tending staff would be up for the task of preparing Mojitos at their wedding reception! Confident, the happily engaged couple also requested we serve Mai Tais and Pina Colodas at their Maui wedding reception. I hope you enjoy the Mojito recipe we'll serve at their wedding reception venue in Maui:
Mojito Ingredients (fresh lime and mint leaves)
2 tbs raw sugar
1 1/2 oz white rum
1/2 lime, cut into five wedges
1 cup ice cubes
10 fresh mint leaves
1/2 cup club soda
1 raw Hawaiian sugar cane stick
How to Prepare a Mojito:
– Muddle the mint with a lime wedge. Muddling releases oils from the mint and juices from the lime.
– Add two additional wedges of lime.
– Add the raw sugar.
– Muddle again. Do not strain the mixture!
– Pour the mixture into a tall glass.
– Fill the glass with ice.
– Pour the rum over the ice while filling the glass with carbonated water.
– Stir. Add sugar to taste.
– Garnish with the remaining lime wedges and a raw Hawaiian sugar cane stir stick.

TIP: To prepare the raw sugar for easier absorption, we use low heat to melt the raw sugar and then chill ahead of time.

One cocktail per recipe.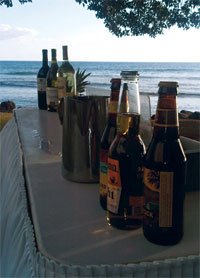 We hope you get the chance to try this Mojito recipe over the long Labor Day holiday weekend winding down your summer. If you prepare this cocktail recipe at home, please share an image of your Mojito to our 'Married on Maui' Facebook page and let us know how you liked the recipe. Or, leave a comment below to let us know if you found the recipe and wedding tip informative.
Subscribe to our Maui Wedding Catering Blog for more event planning tips and recipes from Hawaii. And, read 'Cocktails for Maui Wedding Receptions' for more Maui wedding cocktail ideas.
Provide a few details via our short Wedding Planning List and we'll help you begin planning your dream Maui wedding in paradise!