With guests traveling to celebrate your Maui Hawaii wedding, most couples want to spend as much time as possible with their guests before and after their destination wedding on Maui. A fun way to show appreciation to your guests is by h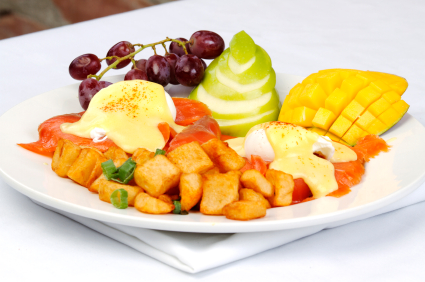 osting a day after wedding brunch the morning following your wedding day. Not only will you have additional opportunity to share more time with your the guests before they depart for home, your families and friends will enjoy a relaxing brunch the day after your wedding.
We recommend eggs benedict be included on the menu and served for a day after wedding brunch on Maui. Another wedding brunch variation, some couples getting married on Maui are opting for a cool morning wedding followed with a wedding day brunch instead of the traditional wedding reception dinner. The short video below shows a day after wedding brunch at our Maui restaurant wedding brunch location.
A Day After Maui Wedding Brunch:
Eggs Benedict requires a rich homemade Hollandaise sauce. We alway make our hollandaise sauce from scratch and lovingly prepare it just before serving at a Maui wedding brunch, a day after wedding brunch or in our Kaanapali restaurant. Thats right, the hollandaise sauce sered daily on our eggs benedict at CJ's Deli & Diner Kaanapali restaurant is homemade!
Would you like to make your own hollandaise sauce just like we serve at catered day after wedding brunches on Maui?
Or, keep an eye on our CJs Comfort Zone Catering Google Plus page to for an announcement about an exciting opportunity to learn the techniques and skills necessaryto make classic hollandaise sauce – it's easy once you know my chef tricks to make the sauce perfect every time!
Ready to plan a Maui wedding? Just need to plan the day after wedding brunch?
Start planning your Maui catered event by providing a few ideas for your catered event, and we'll be happy to answer your questions and provide a price to cater your day after wedding brunch on Maui.
Please leave questions about Maui wedding planning or Hollandaise sauce making in the comments section below.