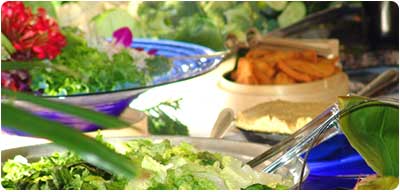 Most of the locals in West Maui already know we have the biggest, freshest and best salads in Kaanapali, but did you know we serve Gluten Free, Vegetarian and other specialty diets too? No need to break the rules or go hungry on Maui just because you have special dietary requirements! Though we are honored to celebrate over 10 years in business for our Maui restaurant and catering business, we are always seeking new ways to improve to serve what Kaanapali visitors and Maui locals alike are looking for in affordable Maui dining options. Since my teenage daughters recently converted to vegetarian diets and with the increasing frequency of being asked if we serve Gluten Free or Vegetarian dishes at the Kaanapali restaurant or for catered events, I decided it was time to formally create our new menus for Vegetarian and Gluten Free dining options!

Wondering if these Gluten Free or Vegetarian menus are available for catered events on Maui? The answer is YES! We do offer Vegetarian and Gluten Free catering menus too! Unless you only need takeout or to go meals, be sure to ask for a customized estimate for your catered event instead of ordering from our general restaurant menus. I'll work with you to understand the specifics of your special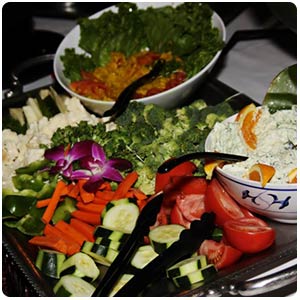 dietary needs and then customize a catering menu to match your budget. We always provide a free estimate specific to your catered event and menu selections.
Vegetarian cooking at home? Enjoy my homemade hummus with crispy Pita Chips at home after you learn how to make it by watching my easy Homemade Hummus preparation cooking lessons.
Ready to plan a catered wedding reception, order graduation party catering or organize a family reunion on Maui? One call does it all! Just hit the button below and let us know a little about your Maui catered event details. We'll supply a preliminary cost estimate along with suggestions to make planning a catered event on Maui easy! Begin Planning a Catered Party on Maui NOW:
{{cta('a7b64553-9414-40e5-8a72-6b9488f4baff')}}