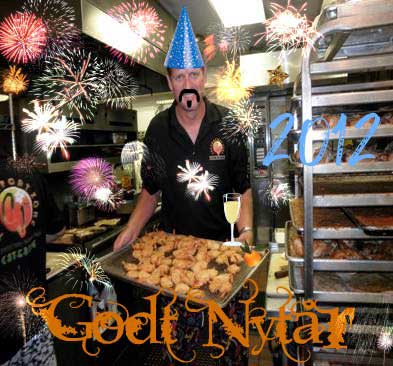 Looking for a pupu recipe to serve your guests at your annual Holiday Party or family party? Need an easy to prepare appetizer recipe featuring tropical island flavors of Maui? Look no further! Just put on your favorite Bing Crosby Christmas songs while you prepare my Coconut Prawn Pupus (pupu is the Hawaiian for appetizers). You'll be pleasantly surprised at the ease of this recipe and your guests will be delighted as they enjoy the tropical flavor nuances of my Coconut Prawn Pupus. In the photo on the right, that's me (Chef Christian Jorgensen) in my Kaanapali restaurant, wishing you Glædelig jul (Danish for Merry Christmas) while holding a tray of Cocounut Prawns to be served to guests attending a catered event on Maui. I hope you enjoy the holiday season and my Coconut Prawns Pupu recipe:
Coconut Prawns Pupus
By Maui Chef Christian Jorgensen
of CJ's Comfort Zone Deli and Diner
Ingredients:
1.0 Lb. (aprox 21-25) Raw Prawns (peeled & deveined)
1 TBL Corn Starch
1 Whole Egg
1 Cup Shredded Raw Coconut
1 Cup Panko (Japanese Bread Crumbs)
3 Cups Peanut Oil (or other high temp frying oil)
Salt and Pepper to season
Preparation:
Defrost prawns under running cold water
With small knife, make small incision along the back of the prawn, so it splits half open
Season the prawns
Whisk the egg with a bit of water and the corn starch
Dip the prawns in the batter and coat with the panko coconut mix (press with palm of your hand)
Put in the freezer for aprox 30 minutes
In Heavy Bottom Pan, Fry the Prawns until Golden Brown (2-3 Minutes)
The oil should be hot ( use wooden skewer to check – when small bubbles surround the stick, the oil is ready)
Serves 6 (4 each appetizer)
Serve with your favorite dipping sauce. An easy dipping sauce is Thai Sweet Chili with a bit of fruit added.
Be sure to use the comments section below to let us know how the recipe came out for you or of any questions about the recipe. If you would prefer to have a private catered event on Maui or a personal chef for your holiday party, get started with our short Maui Event Planning Questionaire!
If you liked this recipe, be sure to subscribe to our blog for more recipes and Maui event planning tips.
We cater events on Maui! Big or small, one call does it all.
(808) 357-8546