Most brides dream of feeling like a princess at her wedding. She knows that she is the center of attention at a crowning moment of her life. That is probably why many brides planning a Maui wedding wear a Haku Lei, the beautiful crown of flowers lei. And quickly becoming a Hawaii wedding tradition.
Worn around the head, the haku (ha-koo) lei is a popular Hawaiian headdress for Maui weddings. Traditionally, white flowers are used for a bride's lei, although colorful tropical flowers for accent look lovely, too. Including flowers that match the couple's wedding color scheme can create a smartly coordinated look.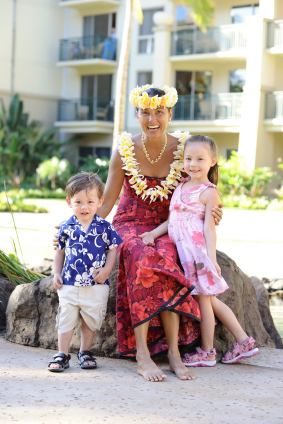 Wearing this halo of flowers rather than a long veil truly makes a wedding uniquely Hawaiian. And it offers a practical benefit, too. Maui's trade winds are soothing and cooling, but they sure can blow a veil around. The last thing a bride wants to worry about is the wind blowing her veil in front of her face during the vows or the romantic first kiss. An uncooperative veil can ruin the mood and the wedding pictures.
Fortunately, the haku lei stays in place with some hair pins and even helps hold the hair in place, too. And if the couple desires the tradition of a veil, a short veil pinned in back with the lei is the perfect accent piece, a "Hawaiian veil."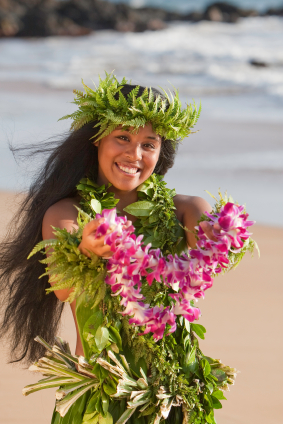 What's nice about this headpiece is that it looks good with any style of wedding apparel that the bride is wearing. Walking down the aisle in a long gown with an exquisite train. Standing under a gazebo in a chic and simple sheath. Sinking her toes in the sand at a casual beach ceremony. The bride looks like royalty, the haku lei a Hawaiian bridal accessory that accentuates her perfect dress and her radiant face.
If the lady, or "wahine" (wa-hee-nay), wants to further adorn herself, a smaller haku lei can be fashioned to wear around the wrist or ankle. Sometimes these tie with an attached ribbon for a better fit and to make them easier to put on and remove.
While the white haku lei is a standard for Hawaiian wedding traditions, a colorful haku lei is often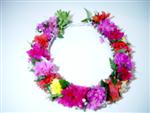 worn for other celebrations. For the pageantry of Maui's May Day celebration, an annual event featuring Hawaiian flowers, music, and dance, many wahine wear a haku lei in addition to a neck lei. For a birthday, anniversary, graduation, or other special occasion, a woman smiles beneath her crown of colorful, tropical flowers.
Sometimes instead of wearing the haku lei on her head, a woman puts it around a hat band. This way she
can shade herself from the sun with style.
Haku leis even make beautiful decorations. They can be placed on a table as a centerpiece or around the base of:
candles
fruit bowls
decorative bottles
floral arrangements
baskets
This wreath of flowers adds an original touch to complete a decorating ensemble.
The haku lei is named for the way the lei is braided. This method uses a base material such as banana or ti (tee) leaves, softened tree bark,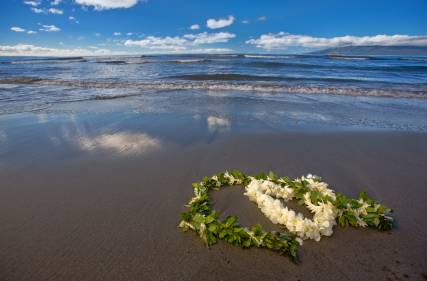 or ferns. While the base material is braided, decorative elements are added to the weave, usually flowers. But other elements can make the lei beautiful, too, like fruits and leaves.
Would you like to preserve the beauty of the fresh flower lei for a few days? The wahine may wrap it in damp paper towels, put it in a plastic bag, and place it in the refrigerator. She can take it out and wear it again when she wants to feel like a princess and show off that tiara of flowers!
Need help getting started with your Hawaii wedding planning? Use our 'Online Planner' to Begin Planning a Maui Hawaii Wedding.
Or, hit the button below to provide a few details about your wedding plans:
{{cta('2f3ec34f-8c06-40fc-bb27-75700f95a429')}}