When dreaming about a wedding in Maui, one cannot help but envision festive colorful Tropical cocktails with an umbrella. The Hawaiian Islands are renowned for creation of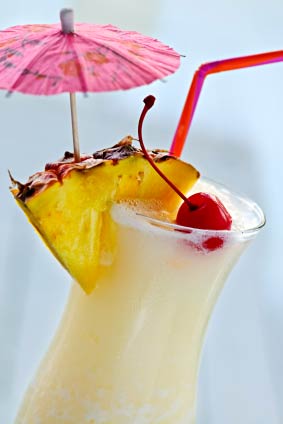 several tropical libations back in the 1950's. Any celebration, particularly a wedding in Maui, would not seem quite right without a Maui Tai, Pina Colado or other tropical cocktail. With hundreds of colorful cocktails to choose from, pick the right drink to complete a Maui wedding day. The following list provides a short description of some of the most popular summer cocktails for weddings in Maui:
HAWAIIAN TROPICAL COCKTAILS (ideal for summer weddings in Maui)
Blue Hawaiian Cocktail – Invented in 1957 by bartender Yee, in Waikiki, this drink is a blend of blue curacao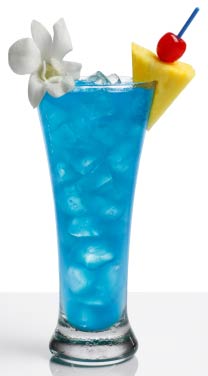 , pineapple juice, vodka, and rum. Some recipes call for crème de coconut, making it a Piña Colada that matches the blues of the ocean! Pictured to the right, the Blue Hawaiian drink is served in a 10-ounce cocktail glass with a garnish of fresh Maui pineapple.
Tropical Itch – Yee modified the recipe of the Blue Hawaiian that same year, creating the Tropical Itch, a cocktail made with orange curacao, passion orange juice, and rum. This drink is traditionally served with a bamboo backscratcher. Imprint with your Maui wedding date for a unique wedding favor.
Mai Tai – The Mai Tai, one of the most notorious tropical cocktails, often present at weddings in Maui, was ironically, invented in California in the 1940s. The drink, roughly translated from Tahitian as "Out of this World," has changed throughout the years, from rum-focused to fruit-layered. Our Maui bartenders recommend a classic Mai Tai recipe as pictured below.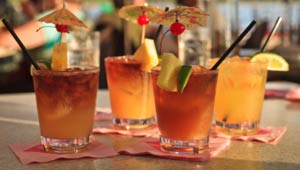 Lava Flow – This variation of a Piña Colada gets its name from its reddish tinge, colored by the frozen strawberries. It is made with coconut rum, light rum, a banana, pineapple juice, coconut cream, and frozen strawberries. The strawberries and rums should be blended separately from other ingredients. Key Lime Colada, this dessert-inspired cocktail mixes vanilla rum, Key Lime Cream liqueur, piña colada mix, and fresh pineapple juice.
OTHER POPULAR WEDDING COCKTAILS
Martini – H.L. Mencken, American journalist, essayist, and editor, named the martini "the only American invention as perfect as the sonnet." It is made with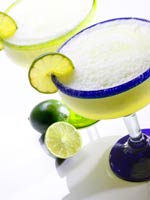 gin and vermouth, and can vary greatly (chocolate martini, apple martini…)
Manhattan – Another old-time favorite is the Manhattan, originating from the mid 19th century, made with whiskey (traditionally rye, Canadian, bourbon, blended, or Tennessee whiskeys are used), sweet vermouth, and bitters. This cocktail adds a classic touch to weddings in Maui.
Margarita – Although the Margarita originates from Mexico, it is the perfect summer cocktail for weddings in Maui. It is made from tequila, orange-flavored liqueur, and lime or lemon juice.
Daiquiri – Originating from Cuba and considered a favorite by author Ernest Hemingway, this drink is made from rum, lime juice, and sugar/sweetener.
Cosmopolitan – Some attribute this cocktail's claim to fame to television show 'Sex and the City' character Carrie Bradshaw. This drink is made from vodka, triple sec, cranberry juice, and lime juice.
Planning tropical island wedding in Maui? I recommend any of these drinks to add a splash of color to your special Maui wedding day. Begin planning your Maui wedding today, create a catered cocktail party menu to the cocktails or get more Maui wedding tips by suscribing to our Maui catering blog. Comments are welcome below.
Enough wedding planning tips and ready to start planning a Maui wedding day? Get a FREE Maui Catering quote:
{{cta('5bb5c1dc-68e2-4f9d-b5f2-ace478a2f76c')}}