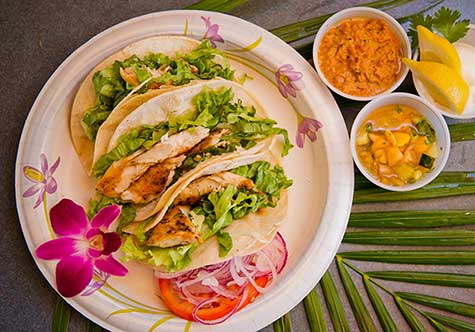 To get ready for the annual Cinco de Mayo celebration on Maui we've cooked up a few recipes for you to use at home or in a vacation rental! Make up a batch of my Volcano Spice mix for Volcanic Fish Tacos accompanied by my Tropical Salsa recipe and serve with Mango Margaritas. Don't feel like cooking? Then head into CJ's to pick up a Chefs To Go meal or dine in for Volcano Fish Tacos. What would a Cinco de Mayo celebration be without a good Margarita? Worry not! There won't be a revolution at your party when you use the Mango Margarita recipe included below to serve with these tasty fish tacos.
Just pick up an order of our Chefs To Go Fish Tacos and we'll provide everything you need to prepare the tacos at home. All you'll need to do is heat up a frying pan, bread the fish in the provided spice mix and lightly fry the fish. What could be more fun than enjoying fresh fish tacos you made in your vacation rental as the sun slips down after an exciting day vacationing on Maui! We make it easy by including everything you need, from the Volcanic spice rub mixture to the fish and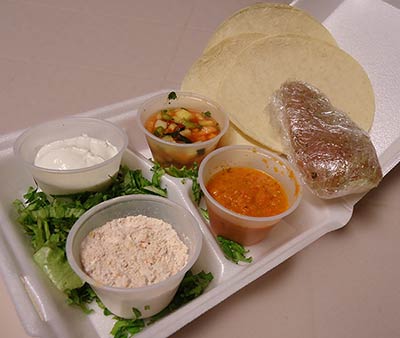 taco shells. Along with a generous portion of sour cream we include a couple varieties of our housemade salsa when you order in the restaurant or Chefs To Go to make at home or in the vacation rental.
If you can't be here with us on Maui for Cinco de Mayo or you want to relive your Maui vacation memories, you can prepare my Volcano Spice Fish Tacos after returning home by using the salsa recipe provided below along with the volcanic spice rub recipe for the fish. Don't forget to add a toast to the celebration by making a batch of the Mango Rita Recipes ahead of time! Share your pics on our Pinterest page or Facebook page, too!
Maui Chef CJ's Cinco de Mayo Recipes
CJ'S Volcanic Spice Mix
by Maui Chef Christian Jorgensen, CJ's Deli & Diner
Comfort Zone Wedding Planning and Event Catering
1 lbs All Purpose Flour
4 oz Onion Powder
4 oz Garlic Powder
2 oz White Pepper
4 oz Paprika
2 oz Chili Powder
1 oz Oregano
1 oz Fennel Seeds
1 oz Cayenne Pepper
Preparation:
Mix and stir all ingredients

Blend in spice blender or coffee grinder until loose

Coat the fish in the mixture

In cast iron skillet cook until lightly browned
I use this recipe for our Famous Fish Tacos in addition to most of our Seafood / Fish preparations at our catering events on Maui. This is a simple and easy way to spice up your BBQ. Give your dishes that Hawaiian-Tropical Feel-Touch. Keep in dry place for up to 3 months!
CJ's Tropical Salsa Recipe
1 Medium Size Onion
1 Green Bell Pepper
½ Cup Diced Pineapple
½ Cup Diced Papaya
½ Cup Diced Mango
1 Each Seed Free Diced Cucumber
2 Tablespoon Olive Oil
1 Tablespoon Chopped Garlic
3 Chopped Small Red Chili or 2 oz Chili Sambal
2 oz Rice Vinegar
1 Tablespoon Cumin

2 oz Chopped Cilantro

1 Cup Sweet Chili Sauce
To Taste: Salt / Pepper
Preparation:
Dice all fruits and vegetables into small cubes.

Place in mixing bowl.

Softly mix in oil, vinegar, chili, and seasoning.

Season with Salt and Pepper and add the chopped Cilantro.

Best used after marinating for at least 4 hours.

(Serves 15)
This is a simple and easy way to spice up your BBQ time to give dishes a Hawaiian-Tropical taste. Keep refrigerated for up to 2 weeks. I use this recipe for our
famous fish tacos
we serve at
CJ's Deli & Diner
in Kaanapali and for many of our seafood and fish preparations at our catering events. Don't forget to make the cocktails using the Mango Margarita Recipe (after the image)!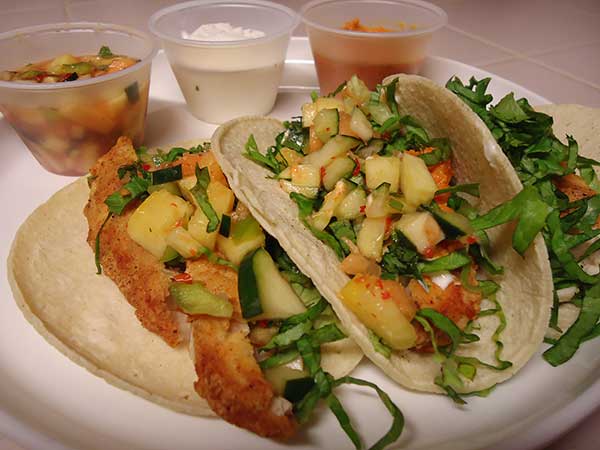 Mango Rita Recipe (on the rocks)
This Mango Margarita recipe is served on the rocks, my favorite way. If preferred we season the rim of our glasses with Li-Hing Moi, a favorite Hawaiian Sour Plum seasoning for a salty spicy contrast.
Ingredients:
4 oz Tequila (Blanco)

3 oz lime juice
5 oz mango juice
1 oz Orange liqueur (Grand Manier, Cointreau or Triple Sec)
2 lime Wedges
2 tablespoon Li-Hing Moi seasoning on a small plate
Preparation:
Add the 4 ingredients in a cocktail shaker filled with ice

Shake for 10-15 seconds until mixture is chilled

Run the fresh Lime wedge on the rim of a glass

Press the glass onto plate with Li-Hing Moi seasoning. Coat the rim well

Fill the glass ¾ with ice then pour the margarita over the ice in the glass
In addition to picking up a couple orders of our Chef's to Go Volcanic Maui Tacos and preparing the recipe yourself, another alternative is to use our
full service catering
for events on Maui. We'll setup
active chef stations
preparing Steak Fajitas and Fish Tacos. Guests attending your event or wedding reception will be treated to personally prepared steak, chicken, fish or vegetarian dishes with plenty of opportunity to interact with the chefs. Maybe lessons to prepare hand crafted margaritas for a bachelor or bachelorete party before the Maui wedding?
{{cta('a7b64553-9414-40e5-8a72-6b9488f4baff')}}