My neighbor, Jennifer Johnson (of FatIguana Marketing), asked me if there is anything she could do with mangoes that had been macerating for several days. I suggested a recipe for Mango Apple Trifle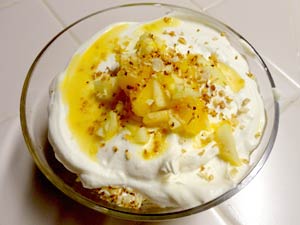 and invited her to guest author a blog article. Her story about my Mango Apple Trifle recipe follows:
One of my colleagues gave me a bag full of fresh local mangoes. Mango trees grow huge here in Hawaii, and my colleague has one such huge mango tree growing in his family yard. As is Hawaii tradition, he spreads aloha by sharing the mangoes with friends. When mango trees go to fruit, there is an abundance of fruit coming off the tree in a short period of time. My husband and I love mangoes and are always on the look out for new ways to use mangos! One of my favorites is to enjoy mangoes as a frozen snack. Simply peel and cut the mango into small wedges, then place in a container in the freezer. Once frozen, eat the mango wedges frozen as healthy refreshing snack on a hot day.
We also love homemade fresh mango ice cream and mango sherbert or sorbet. Macerating the mangoes before placing in the the ice cream creates the best flavors! So, with all the mangoes we received, I decided to macerate mangoes for ice cream. Unfortunately, I got too busy with other things and didn't get opportunity to make the ice cream for a few days. The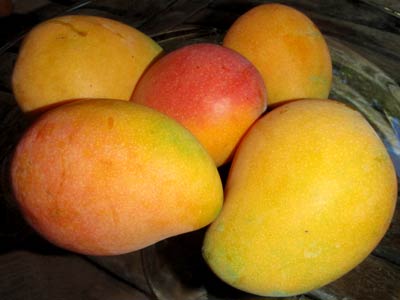 mangoes seemed over macerated (is that possible?) and I didn't know what to do. Since Chef CJ taught me how to macerate fruit in the first place, I decided to ask him for advice. Immediately, he reassured the mangoes would be fine and recommend using the mangoes in a fruit trifle.
Chef Christian told us of a story where his grandmother used to make a fruit Trifle with macerated, over softened, or winter/canned fruit and fresh cream as a quick and easy delicious dessert. Then off the top of his head, Chef CJ not only gave us the recipe, he helped us create a trifle right then and there. Of course we had to eat it as dessert after our dinner and it was absolutely delicious! Try it yourself! Chef CJ's Mango Apple Trifle recipe:
Mango Apple Trifle Recipe, by Chef Christian Jorgensen
In a sauté or fry pan, use equal amount panko bread crumbs (Japanese bread crumbs) and white sugar. Start with aproximately a half a cup of each. First, add ½ of the panko and then ½ of the sugar to the pan. Cook over med-high heat. Then, add the rest of the panko and sugar again. Cook until a crumble forms, about 5 minutes.
Spread on a baking sheet until cool.
In a bowl, whip some heavy cream. In a different bowl, mix 1 egg, ½ cup sugar and 1 tsp vanilla. Whip until fluffy. Turn egg mixture into the whip cream.
Use glass dishes or bowls so you can see the layers. Layer the panko, whip cream and fruit in ½ cup increments, repeat until the bowl is full.
Chill for at least an hour to allow the flavors to meld together.
For a quick dessert, you can substitute the panko/sugar crumble with crunched up macaroon cookies or subsitute the whip cream mixture with vanilla pudding folded into whip cream.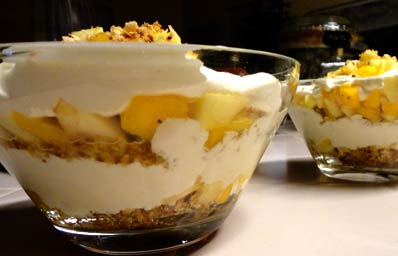 A variety of fruit may be used instead of mangoes. Or, a mixture of two fruits may complement each other nicely when one adds a crunch texture such as apple with mango as we used. Pear, peach, plums, nectarines, strawberries, raspberries or apricots work great too. I used both the over-macerated mangoes and fresh chopped apples – It was delicious! We shared a bowl with the Chef and his family loved it too!
If you enjoyed this recipe as much as we did, leave a comment below. And, when you visit Maui be sure to visit CJ's Deli Diner restaurant in Kaanapali to enjoy their home made desserts and comfort food. Chef CJ also plans and caters events and weddings on Maui too. Use the button below to request a complementary event catering or wedding planning estimate:
{{cta('6e990028-e3b3-44a6-a4c1-80e08111e3e9')}}