Four Questions You'll Want to Ask Before Selecting a Maui Caterer for Your Wedding in Hawaii.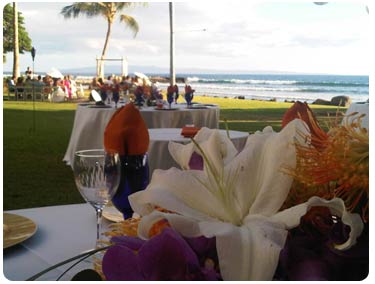 Most couples planning a destination wedding are using the Internet to plan their Maui wedding. From seeking inspirational wedding planning ideas to preparing or narrowing a list of professional wedding providers to coordinate and supply your wedding in Hawaii, we recommend being informed when making decisions about the wedding professionals you choose to work with to make your Maui wedding memorable and stress free.
If you are planning a catered wedding reception or a catered wedding rehearsal dinner on Maui, these questions will help you select a Maui caterer:
How Many Years Have You Catered Weddings On Maui? Work with a professional chef with experience catering weddings. Ask questions to ensure you are working with a professional chef. Simply offering 'Maui destination weddings' or 'wedding planning on Maui' services via a web site does not guarantee you've found an experienced professional chef serving from a licensed commercial kitchen with a legitimate business. Ask the caterer how long they have been a chef and how long they have been catering weddings on Maui. Ask what types of food they serve and if they are experienced preparing menus for food sensitivities or food allergies. Ask where they prepare the food being served at your catered wedding? Verify a licensed commercial kitchen is being utilized for preparation. Even if you are planning a Maui wedding reception barbecue on the beach with food being prepared at on-site food stations or grills, you'll want to know the preparation occurred in a licensed kitchen with food sourced commercially.
Are You Able to Provide Catering for My Wedding at Maui Eldorado Cabana in Kaanapali? Verify the caterer is able to provide services for the wedding location you've selected. Ask if they are able to cater onsite at the specific Maui resort where your wedding will celebrated or if they have arrangements to provide catering at wedding venues including private estates. Ask about multiple wedding locations to ensure they know the island and requirements with specific wedding venues or resort wedding locations. Ask if they can cater at locations to accommodate your guest list. Some resorts do not permit off site wedding professionals and your caterer should be aware of which ones and be able to offer preferred wedding locations at smaller resorts and private venues without needing to additional research.
What number should I call you at? Are you on Twitter or Facebook ? What is your email address? Ask how you will be able to contact them and ensure you will be able to contact your caterer the way you want to communicate. Does the caterer's web site only display contact forms or an email address without phone numbers? Are you comfortable being able to reach the caterer later if phone numbers aren't availble. Will the your Maui caterer provide you with their personal cell phone and be reachable when you have Maui wedding planning questions? Ask if they share wedding planning or wedding catering advice on their Facebook business page and request a Twitter handle. When was the last time the wedding caterer published original content to their Maui wedding planning blog or updated their social media channels? Are their social media account addresses linked from their web site?
Questions your caterer should ask you. Have you selected a Maui wedding location yet? What is the date of your wedding? How many guests are attending? Where are you and your guests arriving from? Will children be attending the wedding? What is your per guest food budget for the wedding? What is the overall budget for the wedding? Do you prefer a resort atmosphere or private accommodations with on-site wedding location? Do you prefer larger or more intimate wedding venue on Maui? Would you like to host an arrival barbecue for your wedding guests or a day after wedding brunch? Do you prefer to stay with your guests? What type of food would you enjoy for your Maui wedding reception? Are any of your guests allergic to any foods or need special diet preparation such as gluten free or dairy free menus catering to food sensitivities.
Do you have questions about Maui caterers or planning a Maui wedding? Use the comments section below for questions or to share your own experiences finding a Maui caterer for your destination wedding. Subscribe to our Maui wedding planning blog for the latest Maui wedding information.
Find out if we are the Maui caterer for your Maui wedding:
{{cta('ed60f494-7386-4c2e-8e73-ca82f7679a33')}}