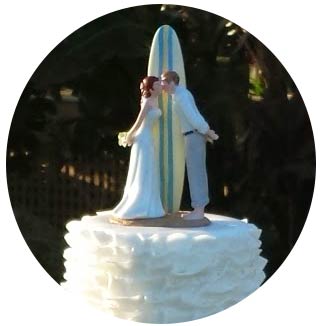 With more than 10 years experience catering weddings for couples getting married in Hawaii, we know not all catering companies on Maui provide the same levels of services with regards to full service catering. Sorting through wedding packages to find out what catering options are included or available can leave couples planning a Maui wedding overwhelmed or frustrated. Don't be!
The best way to save time and money is to involve the caterer as early in the process as possible. Find out what options are included with the catering and what is extra. Interview Maui chefs and review catering menus for the wedding reception. Ask questions and share your wedding vision early to avoid last minute wedding mishaps. Request a catering quote with cost estimates broken out to include not only the catering menu fees but costs for fixtures and equipment the caterer may be providing. Verify chairs, tables, linens, and decor fees are included or not. Find out if there will be additional charges for delivery or cleanup services and if tips are included.
What is included in Chef CJ's Full Service Catering Packages on Maui?
Most full service catering companies include everything necessary for a complete meal service. Our full service catering packages include guest plates, flatware, beverage cups, utensils, serving dishes, chairs, tables and anything else needed for the meal service portion of a catered event. Tables are setup with linen tablecloths and color coordinated napkins. Serving tables always include skirting and we cleanup after events we cater. In the event you want something unique or custom upgrades, we arrange for it or coordinate with wedding service providers to ensure everything is planned without overlap or extra expenses. To help couples planning a wedding on Maui, we've included a short list of the most frequently asked questions about what is included with full service catering on Maui:
Not every catering company on Maui provides full service so be sure to find out what is included and available. Though we offer many more options than listed, as demonstrated by our list above we strive to be the 'One Call Does It All' best choice for catered events on Maui! Don't see something you want? Let us know and we'll find it or explain why it isn't practical for Maui weddings. Combine our extensive international culinary and catering background gained at some of the world's largest hotels along with more than 10 years planning and catering weddings on Maui for an unforgettable Maui wedding! Ready to get a cost estimate for a catered event on Maui? Hit the button below to request a no obligation Maui catering quote:{{cta('3fd99430-bb9b-40e2-a372-39f437755dfb','justifycenter')}}