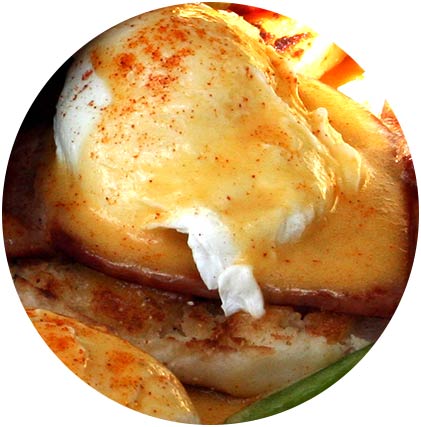 Looking for a Maui restaurant on Maui to enjoy a breakfast or brunch with the family? There is little that will make mom happier than not cooking AND beginning her day with a breakfast or brunch of Eggs Benedict lovingly prepared with a rich homemade Classic Hollandaise sauce!
Every morning your chef at CJ's restaurant in Kaanapali carefully prepares our house made Hollandaise Sauce. Though we serve our homemade Hollandaise Sauce over traditional Eggs Benedict every day, on Mother's Day we offered additional Eggs Benedict variations with a Crab Cake Benedict or a Volcanic Ahi Benedict. For non meat eaters, my Spinach Tomato Artichoke Benedict will be just what any vegetarian on Maui is looking for!
You don't feel like leaving the beachfront vacation rental overlooking Kaanapali beach? Prepare one my favorite Eggs Benedict recipes included below at home or in the condo rental kitchen. You'll find a handy ingredients list for Eggs Benedict along with a recipe to make traditional Eggs Benedict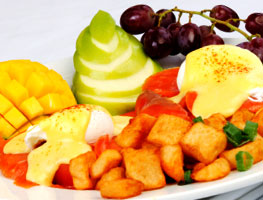 or mix it up a little with recipe variations to prepare a Spinach, Tomato and Asparagus Benedict; a Crab Cake Benedict; and a Bacon or Ham Benedict. Once you prepare my Hollandaise sauce recipe, the only thing that will delight Mom more is when you sit down to join her on the vacation rental lanai! She'll be happy knowing you went to the extra effort to cook while enjoying breakfast and your company. Use the ingredients lists, a few cooking tips and recipe to prepare the Classic Hollandaise Sauce for Eggs Benedict. If you need help, use the comments section below to post questions. Unless we are busy catering an event on Maui, we'll do our best to answer quickly. If you decide to take Mom to CJ's in the Kaanapali Fairway Shops, we'll be open at 7 am Maui time and we serve Eggs Benedict as part of our breakfast menu till 11 am daily.
Eggs Benedict with a Classic Hollandaise Sauce Recipe
by Chef Christian Jorgensen of CJ's Deli & Diner in Kaanapali, Maui
Classic Hollandaise Sauce Ingredients:

4 Pasteurized Egg Yolks
1 tablespoon Freshly Squeezed Lemon Juice
1 tablespoon White Vinegar
1 tablespoon Water
1 tablespoon Worcestershire Sauce

1/2 cup unsalted butter, melted (1 stick) in Microwave 1.5 minutes
Pinch Cayenne Pepper or Paprika
Pinch Salt
Pinch White Pepper

Tools
Double Boiler (Sauce Pot with mixing bowl on top)
Microwave or melt butter on the stove
Sauce Pot for reducing liquid
Whisk

Preparation

In Sauce Pot Reduce: Vinegar, Lemon Juice, Water and Worcestershire Sauce to half (3 min)
Add liquid to mixing bowl with Egg Yolks
Vigorously whisk the Egg Yolks and Liquid together in a stainless steel bowl over a saucepan containing barely simmering water (or use a double boiler,), until the mixture is thickened and doubled in volume. (The water should not touch the bottom of the bowl, leave space for steam)
Continue to whisk the Egg Mixture rapidly. Be careful not to let the eggs get too hot or they will scramble.
Slowly drizzle and mix in the melted butter (Leave the separated water in the butter at the bottom)
Continue to whisk until the sauce is thickened and doubled in volume.
Remove from the stove: Taste- Whip in Cayenne, White Pepper and Salt.
Cover and place near stove until ready to use for the eggs benedict
If the Hollandaise gets too thick, mix in a few drops of warm water before serving.

Eggs Benedict Recipe by Maui Chef Christian Jorgensen

Eggs Benedict Ingredients

2 Each Crab Cakes, Bacon, Ham or Spinach Tomatoes or Asparagus
2 English Muffins, Split
1/4 Cup White Vinegar (Poaching Water)

4 Eggs
Hollandaise Sauce,
Paprika Sprinkle for garnish

Fill a skillet half full of water. Add White Vinegar to the cooking water.
(This will make the egg white cook easier, and keep in shape)
Bring to a slow boil. Gently break the eggs into the water taking care not to break it.
Reduce the heat to a gentle simmer.
Cook 3 to 3 ½ minutes: Until the egg white is perfect and yolk remains soft.
Remove with a slotted spoon, making the egg drain.
To assemble: Lay Topping on top of toasted English Muffin, followed by Poached Egg.
Poor Hollandaise over the eggs.
Garnish with Sprinkle of Paprika

Serves 2 to 4
Hollandaise Sauce Cooking Tips:
Get the egg yolk and butter to the same temperature
Using a double boiler over gentle heat avoids making scrambled eggs because the heat is too high
Whisking in figure eight allows maximum air into mixture
Use the freshest eggs you can find for Poached Eggs
To ensure the poached eggs for your favorite Eggs Benedict are up to par with the home made hollandaise by using fresh eggs. The whites of older eggs won't stay together as well as fresh eggs when you add the eggs to the swirling water for poached eggs. Not sure how to do that? Ask questions in the comments section below and share images or video on our Facebook page or Pinterest. Or, leave the cooking to Chef CJ and we'll prepare a catered brunch for a wedding on Maui or any other event. Start planning a catered event on Maui now:{{cta('558471fa-4e20-4707-b9d4-5095886ca6ce','justifycenter')}}