Who says you won't find an affordable Maui restaurant for breakfast in Kaanapali or can't enjoy a family dinner without breaking the bank?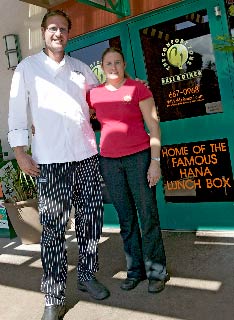 Chef Jorgensen and his wife Marilyn are local Maui residents with extensive culinary and restaurant management backgrounds. Over 20 years ago, the former executive chef at the Westin Resort on Kaanapali beach, Chef Jorgensen, saw a need for an alternative to the typically expensive resort dining options. To fulfill the need for an affordable Maui restaurant option in the Kaanapali resort, Chef Jorgensen opened CJ's Deli and Diner in the Kaanapali Fairway shops. Today, our Maui restaurant serves
breakfast
daily from 7 am till 11. Our
lunch and dinner menus
are served daily after 11 am until we close at 8 pm.
Scan the following 7 reasons to visit CJ's Kaanapali restaurant during a Maui vacation.
One of the Most Affordable Restaurants on Maui – Though nearly unheard of on Maui and especially in the Kaanapali Resort, most menu items are under $15 and complete plate lunch and dinners are available with daily specials usually around $15 and under $20. You'll often find shrimp or fresh fish on the daily specials menu board. Sauteed Mahi Mahi with Lemon Caper Sauce served with steamed vegetables is on our menu everyday!Homemade soups are prepared daily, too. Leave room for Chef CJ's homemade desserts! From the award winning Hana Bars to homemade pies and ice cream sundaes made from local Maui ice cream maker Rosealani.

Open Daily for Breakfast, Lunch & Dinner – We're open daily between 7 am till 8 pm. The best Maui breakfast in Kaanapali is available from 7 am and served until 11 am daily. If you like to sleep in, we offer a limited late breakfast menu available until 1 pm daily. Our Loco Moco, a local favorite, is available all day and includes 2 eggs, steak and rice smothered in brown gravy. Many say we have the best Kaanapali breakfast while others express delight finding one of the most affordable Maui breakfast options. No need to pay $20 for breakfast at the resort hotel restaurants in Kaanapali when you can easily enjoy a full breakfast at CJ's for around $12.

Air Conditioned Comfort Zone Restaurant – We cater to our customers by not only providing great comfort food at affordable prices but also by providing you with an enjoyable dining experience in a comfortable friendly environment. Take a short break from the Maui heat or humidity to enjoy tasty Comfort Food for lunch or dinner in our air conditioned dining room. Find your comfort zone in our Comfort Zone!

Gluten Free and Vegetarian Options – Chef CJ is a European trained professional chef on Maui with extensive experience catering to guests with food sensativities. My daughters have opted for a vegetarian diet and we have embraced our dining styles at home to accommodate their preferences. I often experiment with our evening dinners to create new vegetarian dishes to serve in our Kaanapali restaurant. If you don't see what you need on our vegetarian menu

or

Gluten-Free menu, let us know and we'll do our best to create a meal you'll be happy with. Be sure to pick up a delicious Acai Bowl at least once or twice during your vacation. Our Acai Bowls with coconut water are topped with yogurt, fresh fruit and granola (gluten free is available without the granola) our on our daily breakfast menu for $11.

Homemade Baked Goods and Award Winning Desserts – From Maui Chef Jorgensen's award winning Hana Bar Sundae with Mango Sauce to the decadent Chocolate Brownie, you'll want to leave room for Chef CJ's homemade desserts! From the award winning Hana Bars to homemade pies and ice cream sundaes made using locally sourced and favorite, Maui ice cream from Rosealani.

A Restaurant Owned and Operated by Local Couple – Chef Jorgensen and his wife Marilyn operate the Kaanapali restaurant and work in the restaurant nearly every day. You'll often meet Marilyn when she takes your order. Stop in and say 'hi' during your Maui vacation. Ask questions about fun things to do on Maui.

Hana Box Lunch Picnic with Cooler and FREE Ice Refills – In addition to a hearty picnic lunches suitable for any activity on Maui, our Road to Hana Lunch Box includes the use of a cooler and ice. For a small refundable deposit, we'll let you use the cooler throughout your Maui vacation. You can return to the restaurant anytime and as many times as you want to get FREE ice refills, too!
Ready for an affordable Maui restaurant in Kaanaapali? CJ's is easy to find and hard to forget! Just a short walk from all the Kaanapali resorts or a short drive from anywhere in West Maui, you won't be disappointed when you visit CJ's Deli & Diner in the Kaanapali Fairway Shops. Check out our West Maui map for walking or driving directions to one of the most affordable and best Kaanapali restaurants to enjoy during Maui vacations.
When not cooking in his Maui restaurant, Chef CJ enjoys catering events and planning Maui weddings as well as supplying Maui private chef services, too! Use the button below to plan a catered event or for help organizing a dinner menu for a Maui party with a private chef service:{{cta('646cf88d-2f70-4180-8031-ffe1b29cf7a7′,'justifycenter')}}