Cooking is all about love! Do you remember visiting grandmas house for the weekly family meal when you were a child? Do remember how much fun it was sneaking off to the kitchen to help your grandma prepare her favorite family recipes? Cooking begins with Love! Many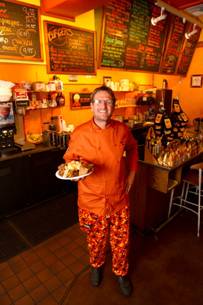 chefs and home cooking enthusiasts agree your earliest connection to food begins when grandparents and parents share their personal cooking techniques and the recipes your family enjoyed together during your childhood. I was no exception! I fell in love with cooking as a child. Not only was I able to enjoy learning from my grandma in her kitchen, since my grandparents owned a restaurant in Denmark I was exposed to the excitement of preparing and serving great restaurant food. I remember watching the diners faces light up as they enjoyed their meal and chatting with my grandparents. I knew I would become a chef and someday own a restaurant and catering business of my own. After culinary training and years of professional chef and catering services at world class resorts, my dream is being fulfilled with my CJ's Deli & Diner restaurant and Maui catering company!
In a short video clip filmed by friend Cutty, from Cookin' with Cutty, the Cutty kids visited my restaurant to learn how to cook lasagna and grill their own burgers. Cutty asked if I, as a professional chef, would share advice for kids wanting to get into cooking or to embark on a culinary career. Watch the video for my short explanation about why I opened CJ's Deli & Diner Comfort Zone and a little about my cooking philosophy:
Thanks to Cutty for shooting and supplying the video clip. Check out Cutty's website for a full schedule of when his Cookin' with Cutty television show airs in your area.
Like my Kaanapali restaurant, my overall business motto is to provide 'Comfort for your Stomach and Comfort for your Wallet'. My Comfort Zone Maui catering company aims to provide a comfortable way for you to obtain catered events and weddings. That means not only providing great food for your wedding or social event on Maui, but providing personable event planning at prices you'll be comfortable with. "I Plan It, I Book It, I Cook It! One call does it all! One stop Maui catered event planning!"
I personally plan every Maui wedding reception and event, working with the bride, the bride's wedding planner and corporate event planners. Begin Planning a Maui Catered Event NOW:
{{cta('a7b64553-9414-40e5-8a72-6b9488f4baff')}}