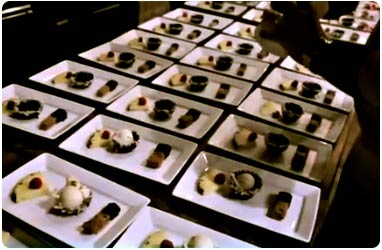 While we usually focus our Maui catering blog on providing helpful tips about planning events and getting married on Maui, once in a while we like to share feedback clients provide about our catering services. Last week, soon after catering a Christmas party for the King Kamehameha III school teachers and staff we received several email messages containing accolades. Though it was our great pleasure to contribute to the community and to the work of the teachers and school staff, we are grateful for and proud of the kind words expressed:
Subject: Staff Christmas Party
Aloha,
I just wanted to say THANK YOU for catering our staff party on Wednesday. The food was delicious and your generosity is greatly appreciated. Being able to come together and celebrate boosts morale and encourages us to press on.
Mahalo for your support and Merry Christmas!
Steve Franz, Principal
Kamehameha III School
Malama: To take care of.
————————————-
A Hawaiian Thank You with a Danish Greeting:
Subject: Mahalo for a wonderful party!
Aloha Christian and the CJ's team,
Mahalo for throwing our school such a wonderful Christmas party! The food was amazing, as it always is at CJ's. We all really appreciate all the hard work you did to make it such a special event for us.
Glædelig jul og godt nytår!
Aloha,
Stephanie Schobe
————————————-
Subject: King Kamehameha III Christmas Party
Dear CJ,
Well you out did yourself from last year…I didnt think it could be any better but the comments from our staff members was all thumbs up! I was away yesterday, but when I came in today all I heard was how excellent the food was and that the choices of entrees was wonderful. No one went hungry…you satisfied even our pickiest of eaters. Wonderful job! I am so happy and appreciative that I can call you my friend and how much aloha you share with our school community. I'm going to have to get a bigger keg this time to make the appropriate toast for all you have done for me and the staff. You made it even more special.
Much aloha, Barry
————————————-
Subject: Much mahalos!!
Thank you all sooooo much for all the time and effort that you put in for our Christmas party!! It was a fantastic time with great food!!
Mahalo and Merry Christmas
Dionne
Dear CJ's Deli,
We are so thankful of the wonderful food that you brought for our luncheon.
So many choices and soooooo yummy!!!
Everyone left very full and happy.
Mahalo to you and your staff,
Gina
Merry Christmas
Thank You to the teachers and staff at Kamehameha III. May your Christmas season be blessed and filled with happiness. We believe it is important for local businesses to contribute to our community and we especially enjoy helping our keiki and teachers. It was a pleasure and honor sharing your celebration! I'm happy you let us know you needed a few special dietary meals. It is always fun utilizing my professional culinary skills to create gluten free dishes.
The 2012 Kamehameha III Catered Holiday Party Menu
100 teachers and staff enjoyed a deserved break from the amazing services they provide while teaching our youth at Kamehameha III school in Lahaina. To add to the festive mood, holiday linens decorated the tables. The staff and teachers buffet lunch included:
Pupus
Crispy Vegetables with our unique Humus and Pitta Chips
Kula Greens with Fall Nuts and Berries
Miso Vinaigrette
Entrees and Side Dishes
Fresh Focaccia Bread with Homemade Cheese
Chef CJ's Famous Mango Ribs & Grilled Corn
Mochicco Chicken (Check out CJ's Mochiko Chicken recipe)
Teriyaki Steak with Shitake Mushrooms
Steamed Ono with Coconut Curry
Pineapple Fried Rice
Dessert
Chef CJ's To Die For Hana Bar Sundae (Scooped To Order)
Catering for a Maui Party? Check out our inclusive Maui Christmas Party Catering Packages or Order a complete Chefs to Go Take Feast for your Christmas Dinner on Maui – Just heat it up and eat! Perfect for dining in your vacation condo or to enjoy for your Christmas dinner at your favorite West Maui beach!
{{cta('9c367413-51c0-4d0c-b9f5-5fd0d0589ee7')}}