Make this Father's day extra special! Dad will be delighted to wake up to breakfast in bed or a late Sunday brunch when the menu includes Eggs Benedict with homemade hollandaise sauce!! You heard hollandaise sauce is difficult and thinking it is above your home cooking skill level? Put your mind at ease with my Classic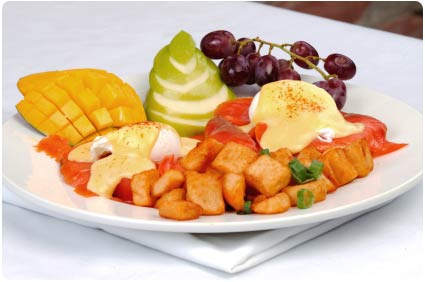 Hollandaise Sauce recipe below! I included a few tricks and cooking techniques with instructions so your dad will think you hired a professional chef!
Did you know Hollandaise Sauce, a classic French sauce, is considered 'One of the 5 Mother Sauces' in cooking? Classic Hollandaise sauce makes use of emulsification, meaning products usually not mixable are able to be blended utilizing an emulsifier such as oil with a protein. Mayo or Aioli is the results of emulsion!
For best results preparing the perfect Hollandaise Sauce, consider a few Professional Chef Tricks:
Get the Egg Yolk and Butter to the same temperature.
Use a Double Boiler over gentle heat to avoid making scrambled eggs when the heat is too high
Whisking in Figure Eight allows for whisking in maximum air into mixture
Hollandaise Sauce by Chef Christian Jorgensen
CJ's Deli & Diner in The Kaanapali Fairway Shops
Serves 2-4, depending on you! Super Easy, Simple and Many Uses for my Classic Hollandaise Sauce Recipe!

Classic Hollandaise Sauce Ingredients

4 Pasteurized Egg Yolks
1 tablespoon Freshly Squeezed Lemon Juice
1 tablespoon White Vinegar
1 tablespoon Water
1 tablespoon Worcestershire Sauce
1/2 cup unsalted butter, melted (1 stick) in Microwave 1.5 minutes
Pinch Cayenne Pepper or Paprika
Pinch Salt
Pinch White Pepper

Tools


Double Boiler (Sauce Pot with mixing bowl on top)
Microwave or melt butter on the stove
Sauce Pot for reducing liquid
Whisk

Preparation

In Sauce Pot Reduce: Vinegar, Lemon Juice, Water and Worcestershire Sauce to half (3 min)
Add liquid to mixing bowl with Egg Yolks
Vigorously whisk the Egg Yolks and Liquid together in a stainless steel bowl over a saucepan containing barely simmering water (or use a double boiler,), until the mixture is thickened and doubled in volume. (The water should not touch the bottom of the bowl, leave space for steam)
Continue to whisk the Egg Mixture rapidly. Be careful not to let the eggs get too hot or they will scramble.
Slowly drizzle and mix in the melted butter (Leave the separated water in the butter at the bottom)
Continue to whisk until the sauce is thickened and doubled in volume.
Remove from the stove: Taste- Whip in Cayenne, White Pepper and Salt.
Cover and place near stove until ready to use for the eggs benedict
If the Hollandaise gets too thick, mix in a few drops of warm water before serving.

FINAL DISH:

Eggs Benedict Ingredients
2 Each Crab Cakes, Bacon, Ham or Spinach Tomatoes or Asparagus
2 English Muffins, Split
1/4 Cup White Vinegar (Poaching Water)
4 Eggs
Hollandaise Sauce,
Paprika Sprinkle for garnish

Fill a skillet half full of water. Add White Vinegar to the cooking water.
(This will make the egg white cook easier, and keep in shape)
Bring to a slow boil. Gently break the eggs into the water taking care not to break it.
Reduce the heat to a gentle simmer.
Cook 3 to 3 ½ minutes: Until the egg white is perfect and yolk remains soft.
Remove with a slotted spoon, making the egg drain.
To assemble: Lay Topping on top of toasted English Muffin, followed by Poached Egg.
Poor Hollandaise over the eggs.
Garnish with Sprinkle of Paprika
Popular Classic Sauce variations using my Classic Hollandaise Sauce recipe:
Béarnaise Sauce – Add fresh tarragon to the reduction
Mornay – Add Whipped Cream, Gruyere and Parmesan Cheese
Charon – Add Tomato Paste
As Topping for Gratinated dishes, including Oyster Rockefeller and Baked Sole
If you try my classic hollandaise sauce recipe or a variation, please be sure to share your questions and story in the comments section below. Your questions are welcome. If you are visiting and don't feel like cooking for dad, treat your dad to brunch at my Maui restaurant in the Kaanapali resort. Thats right, the hollandaise sauce served daily on our eggs benedict at CJ's Deli & Diner Kaanapali restaurant is homemade!
A growing trend in destination weddings is a morning Maui wedding ceremony followed by a catered brunch to replace the traditional wedding reception on Maui. Your wedding ceremony will be in cooler morning hours and finding a Maui wedding location can often be easier than sunset weddings. Hosting day after wedding brunch is another chance to express your appreciation to your Maui wedding guests who made the trip to attend your wedding and bid farewell before the newlyweds depart for their honeymoon and their guests return home after the wedding.
{{cta('a7b64553-9414-40e5-8a72-6b9488f4baff')}}