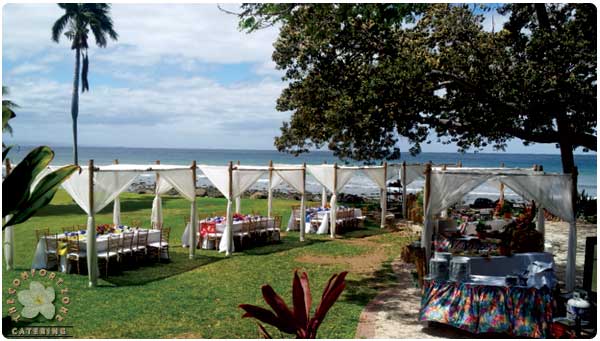 What could be better than you and your Maui event guests enjoying a delicious gourmet dinner just as the sun dips into the surf filled horizon? Imagine attending a corporate event at a private oceanfront estate on a tropical island. You'll be seated at one of the beautiful linen draped bamboo chuppa covered dinner tables while your private chef creates a multiple course gourmet meal
using the freshest ingredients available! Would a catered private dining experience be the highlight of your event on Maui?
As your professional chef, I not only plan every detail of your catered event, I'll arrange for rental equipment such as bamboo chuppa with matching dining chairs and tables. Down to the bamboo handled silverware, tropical themed table runners and fresh flower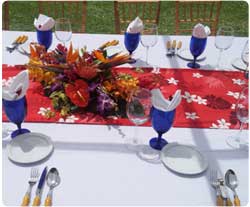 centerpieces, no detail is missed. After the event planning, I attend every event and personally prepare each course of your gourmet meal while your guests are served by my professional wait staff!
Last month, my Maui catering company proudly served a group of 70 vistors who had travelled from Canada to enjoy a corporate incentive event in Hawaii. I'll save the details and menu for another article. In the meantime, take a look at the linen draped bamboo chuppa for the private dinner on the grounds of Olowalu Plantation House estate in West Maui. Four separate chuppa were used to cover the private dinner tables. Each table and chuppa combo accommodated 12 dinner guests.
Two bamboo chuppas were utilized to create my outdoor kitchen where I prepared the gourmet meal on-site for the guests attending the corporate event on Maui: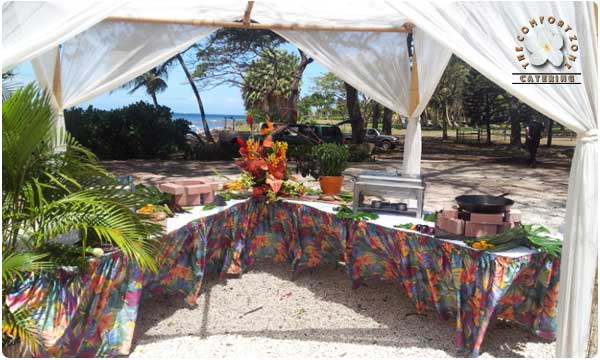 Additional chuppas created a covered stage for the live jazz band entertaining the guests after the sunset: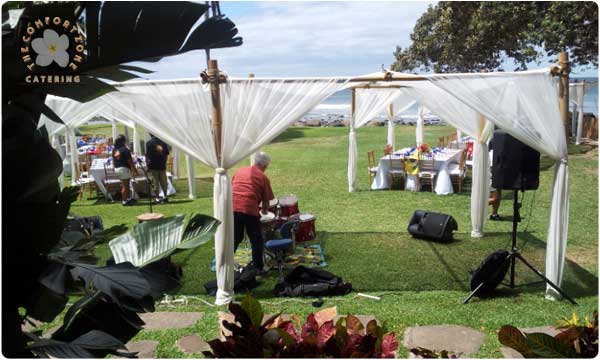 Bamboo wedding chuppas and arches are very popular for weddings on Maui. Brides often request their wedding ceremony and the wedding party table at their reception be canopied under natural bamboo chuppa adorned with festive linens and fragrant tropical flowers from Maui. In addition to using chuppas at wedding receptions or for a wedding ceremony covering, I often recommend the natural bamboo arches for social events and other outdoor catered events on Maui.
Ready to plan your own catered event on Maui? It's easy! Just hit the button below and supply a little information about your event or Maui wedding. I'll personally contact you and supply you with a catered event cost within your budget. Get the party started NOW:
{{cta('a7b64553-9414-40e5-8a72-6b9488f4baff')}}