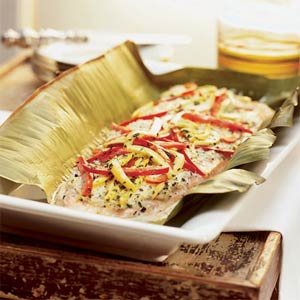 Before I opened my Kaanapali restaurant, CJ's Deli & Diner, and while the Master Chef of the Tropica restaurant at the Kaanapali Beach Westin Resort, I often participated in live cooking demostrations. One of the cooking demonstrations, for the annual Kapalua Food and Wine Festival, featured my Salmon with Crab and Vegetables in a Foil Packet recipe. Because I enjoy using fresh local ingredients whenever possible and available, the original recipe framed a party-size salmon fillet with fresh tropical leaves. While readily available here in Hawaii and sometimes at mainland florist shops, if you can't find Ti leaves then frozen banana leaves (sold in many mainland Asian markets) are a good substitute. Or, you may omit the leaves altogether. If assembling through step 4 up to 4 hours before baking, chill the prepared packet. My recipe was originally appeared in the April 2002 Sunset Magazine.
If you can't get to Maui for the annual Kapalua Food and Wine Festival, you can still be there in spirit with our Maui recipe:
SALMON WITH CRAB AND VEGETABLE IN A FOIL PACKET


by Chef Christian Jorgensen of CJ's Comfort Zone Deli & Diner Maui Restaurant
Ingredients:

Serves 6 to 8 as Main Dish
1 piece (12 by 18 in.) frozen banana leaf (optional; see notes)
1 whole salmon fillet (2 1/2 lb.)
3 tablespoons chopped fresh cilantro
2 teaspoons minced fresh thyme leaves or 3/4 teaspoon dried thyme
2 teaspoons minced fresh oregano leaves or 3/4 teaspoon dried oregano
6 ounces shelled cooked crab
1/3 cup mayonnaise
2 tablespoons Dijon mustard
2 yellow crookneck squash (8 oz. total)
1 red bell pepper (8 oz.)
3 tablespoons dry white wine or water
1 tablespoon olive oil
About 1/4 teaspoon salt
Pepper
Preparation:

1.

Center an 18- by 28-inch piece of foil (or overlap two 12-inch-wide pieces) in a 14- by 17-inch baking pan. Rinse banana leaf and pat dry; center lengthwise on foil. Rinse fish and pat dry; rub your fingers over the flesh to find any bones, pull out with tweezers, and discard. Center fillet lengthwise, skin down, on leaf.

2.

Mix the cilantro, thyme, and oregano. In a bowl, mix half the herb mixture with crab, mayonnaise, and mustard. Spread evenly over salmon. Rinse and dry bowl.

3.

Rinse squash and bell pepper. Trim and discard stems from squash; stem and seed pepper. Cut vegetables into matchstick-size strips (about 3 in. long). Put vegetables, wine, olive oil, 1/4 teaspoon salt, and rest of herbs in bowl and mix to coat.

4.

Spread vegetable mixture over crab layer. Bring long sides of foil together over fish, wrapping banana leaf partially around fish, then fold in ends to seal.

5.

Bake in a 450° regular or convection oven until fish reaches 140° in center of thickest part (insert thermometer through foil and vegetable and crab layers to test), 20 to 25 minutes. Transfer packet to a platter and unwrap to serve; or, if desired, with two wide spatulas, carefully transfer leaf and fish from foil to platter. Add salt and pepper to taste. Cut fish into portions; slip a spatula between skin and fillet and lift off portions, leaving skin behind.
This recipe is also available at: http://www.myrecipes.com/recipe/salmon-with-crab-vegetables-a-foil-packet-10000000656190/
If you try this recipe at home, please leave us a comment below. Enjoy Chef prepared service for Maui Hawaii weddings or any other Maui event.