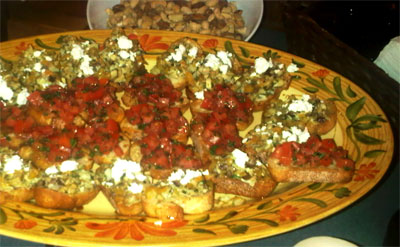 With the 2011 Maui Onion Festival fast approaching, I thought I'd share my award winning recipe for Sweet Maui Onion Salsa Bruchetta. We served our Maui Onion Bruchetta at the 2009 Maui Onion Festival as part of our live cooking demonstration. Enjoy the recipe and continue reading (below the recipe) about the 2011 Maui Onion Challenge we are competing in! Find out how you can Win a trip for two to Maui on Alaska Airlines. HINT: You need to stop in my Kaanapali restaurant to vote for our Maui Onions with Prawn Quiche and Kula Greens appetizer.
SWEET MAUI ONION BRUCHETTA


by Chef Christian Jorgensen of CJ's Comfort Zone Deli & Diner Maui Restaurant
Sweet Maui Onion Salsa Ingredients:

Serves 10

3 Medium Size Onions
2 Tablespoon Olive Oil
1 Tablespoon Chopped Garlic
5 Small Red Chili
1 Cup Vinegar
2 Oz. Chopped Cilantro

2 Cups Fresh Mango Chunks
1 Cup Maui Gold Pineapple
1 Cup Vinegar
1 Teaspoon Cumin
3 Pieces Star Anise
Salt / Pepper / Chili (To Taste)

Bruchetta Ingredients:


10 each Slices of French Bread or Foccicia Bread
2 Tablespoons Garlic Butter
10 Sprigs Fresh Cilantro Sprigs
1 Cup Salsa

Preparation:

1.

In Heavy Sauce Pan, Saute Onions, Garlic, Anise and Chili in Oil until Golden Brown (Caramelized) (10 minutes).

2.

Add Cumin, Mango, and Pineapple – Stir for 2 minutes.

3.

Deglaze with Vinegar.

4.

Simmer for 10 minutes.

5.

Season with Salt and Pepper.

6.

Cool Down.

7.

Spread Garlic Butter on Bread Slices.

8.

Toast Bread in Oven until Golden Brown.

9.

Lace Toasted Bread with 1 Scoop Onion Salsa.

Decorate with Cilantro or Micro Greens.
For the 2011 event, my Kaanapali restaurant, CJ's Deli & Diner Comfort Zone Maui, will participate in the 1st Annual 'Best Maui Onion Appetizer, Restaurant Competition'. The friendly Kaanapali restaurant competition is scheduled to run from April 22 through May 6 as part of the 2011 Maui Onion Festival. The Maui Onion Challenge features eight Kaanapali restaurants competing in the friendly challenge to decide which restaurant has the best Maui onion appetizer! The general public is encouraged to dine at participating Kaanapali restaurants to taste and score as many of the featured appetizers as possible. Participants are eligible to win a trip for two between Maui and any non-stop destination serviced by Alaska Airlines. The winning Maui onion appetizer and the trip for two will be announced at 3:30 pm at the Maui Onion Festival on May 7, 2011 in Kaanapali Whalers Village. To encourage you to try our appetizer, we have a special offer to entice you to make the short walk up the hillfrom any of the Kaanapali resort hotels:
Buy one 'Special' and Receive our Famous Hana Dessert Bar when you mention 'The Maui Onion Festival'.
If you try the Maui Onion Bruchetta recipe included in this article, please let us know your results in the comments below. And we hope to see you at our booth at the 2011 Maui Onion Festival!