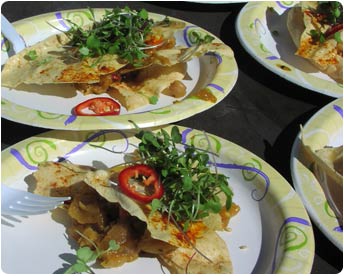 Are you ready for the 2012 Maui Onion Festival?? This coming weekend, the 23rd annual Maui Onion Festival returns to Whalers Village in the famous Kaanapali Resort at West Maui. As a Kaanapali restaurant owner and chef, I wanted to celebrate the Maui onion by creating a recipe to remind you of the great food you enjoyed at the Maui Onion festival during your Maui vacation! Below, you'll find my Sweet Maui Onion Tacos recipe paired with a Pickled Onion Salsa recipe. When fresh Maui onions are available, we serve these Maui onion tacos at my CJs Deli Diner Comfort Zone Maui restaurant in West Maui. I think you will find my Maui onion tacos recipe easy to make at home and it will be an enjoyable reminder of your Maui vacation.
SWEET MAUI ONION TACOS With Pickled Onion Salsa
by Maui Chef Christian Jorgensen of CJ's Comfort Zone Deli & Diner Maui Restaurant
Sweet Maui Onion Taco Ingredients:

Serves 8
3 Medium Size Maui Onions
2 Tablespoon Olive Oil
1 Tablespoon Chopped Garlic
5 Small Red Chili
1 Cup Vinegar
2 Cups Fresh Mango Chunks
1 Cup Maui Gold Pineapple


1 Cup Rice Vinegar
1 Teaspoon Cumin
3 Pieces Star Anise
2 Oz. Chopped Thai Basil
To Taste: Salt / Pepper / Chili

Salsa Ingredients:
3 Medium Size Maui Onions
2 Tablespoon Olive Oil
1 Tablespoon Chopped Garlic
5 Small Red Chili

1 Cup Vinegar
1 Cup Water
2 Tablespoon Tummeric

Preparation:

1.

In Heavy Sauce Pan, Sauté Onions, Garlic, Anise and Chili in Oil until Golden Brown (Caramelized) (10 minutes)

2.

Add Cumin, Mango, and Pineapple – Stir for 2 minutes

3.

Deglaze with Vinegar

4.

Simmer for 10 minutes

5.

Season with Salt and Pepper

6.

Cool Down.

7.

Lace Toasted Papadam (Indian Chick Pea Flat Breads) with Compote

8.

Decorate with Crispy Maui Onions, Cilantro or Micro Greens

9.

Serve with Pickled Maui Onion Salsa
If you miss CJ's Deli & Diner Comfort Zone Maui restaurant during the 2012 Maui Onion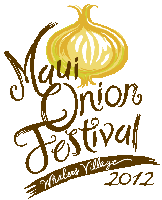 Festival, try my Maui Sweet Onion Tacos recipe! Then, please leave comments to tell us if your family enjoyed my Maui Onion recipe! Or, share a picture on my Facebook restaurant or Maui catering page! Be sure to remember our complete Maui catering services for an upcoming Maui social event, a Maui barbecue or a catered Maui wedding reception.
If you enjoyed this Maui Onion recipe, be sure to subscribe to my Maui catering blog!
Or, Request a No Obligation Maui Catering Estimate:
{{cta('a7b64553-9414-40e5-8a72-6b9488f4baff')}}