Are you planning a wedding on
Maui? Sharing images from past weddings is important to help you plan a destination wedding, select the perfect location for your wedding and choose the Maui wedding service providers to trust with the details of your wedding day. With that in mind, a short story of a catered Maui wedding at the Olowalu Plantation House:
Initially, Kristi and Brad were introduced to us for Maui wedding reception catering. I recall the couple mentioning they were happy to find out in addition to providing catering services for wedding receptions we plan every detail of a Maui wedding or will work with the Maui wedding planner or coordinator of their choice!
Throughout a wedding planning process, I and my catering staff work closely with the bride and groom to ensure their dream of getting married on Maui will be fulfilled. We communicate updates and choices through email, text messaging and the phone to get very detail in place before the couple arrives in Maui. We want brides and grooms to be worry free to enjoy spending time with their guests instead of stressing over last minute wedding planning details.
Preferring a beach wedding location, Kristi and Brad selected the popular private estate Olowalu Plantation House as the Maui wedding location for their ceremony and reception. The couple's wedding nuptials were exchanged under a bamboo wedding chuppa decorated with tropical flower bouquets of white stargazer lilies and other flowers matching the wedding color the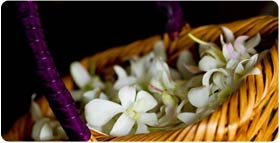 me of plum purple and white. A nearly sheer fabric covering elegantly draped the wedding arch. Fresh white tropical flowers were scattered along the aisle from a basket of fragrant flowers with a purple wrapped handle.
The bride carried a pink, white and purple tropical flower bouquet and the groom wore a maile lei, a traditional Hawaiian wedding lei for men. Chef CJ's Comfort Zone Maui Catering Company arranges for fresh tropical wedding flowers and supplies bamboo wedding chuppah or other wedding equipment rentals for Maui weddings or events. The flowergirl wore the Hawaiian flower head lei, Haku, a crown of flowers: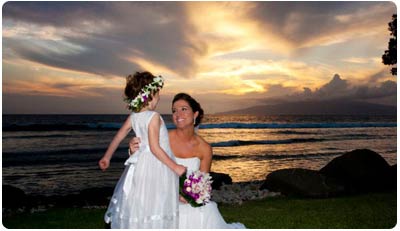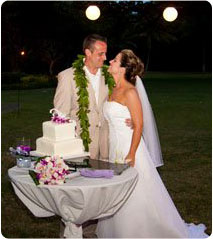 After the wedding ceremony, a champagne toast, wedding cake cutting and wedding photographs at sunset, a fun wedding reception ensued. The wedding reception table centerpieces provided continuity for the purple and white wedding theme. The couple requested white china, silverware and purple napkins with white linen tableclothes for the guest table settings at their Maui wedding reception dinner service:

Each course of the wedding reception dinner was prepared to match the bride and groom preferences. Several of their personal dining favorites were included in the main courses of the dinner and requests for gluten free and vegetarian dietary dishes were met. After enjoying the elegant catered wedding reception dinner, the wedding guests danced under the stars and twinkling lights at the west Maui Olowalu Plantation House: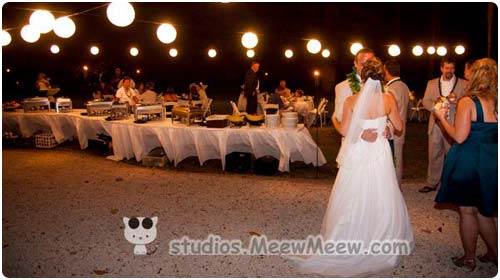 Thanks to MeewMeew Studios for sharing these Maui wedding photographs!
After you watch this short wedding video of Kristi and Brad's Maui Wedding at the Olowalu Plantation House, read on to learn how to get FREE Maui wedding planning:
Ready to start planning your Maui wedding? It's easy! Just answer a few questions about your wedding on Maui:{{cta('3c705b52-78db-41fd-8eff-87e11ca452cc','justifycenter')}}