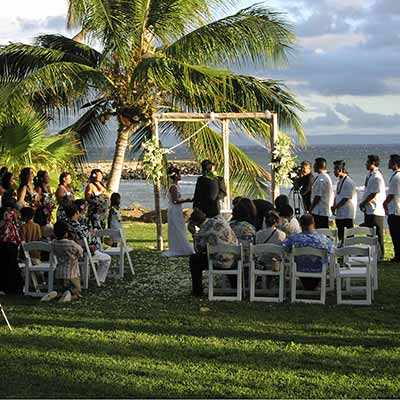 Your Wedding Day is Special and Unique! At Comfort Zone Maui Catering and Wedding Planning, we believe each Maui wedding is a special and unique event, which is why we go above and beyond to make your special day extra special! No matter where you are, you won't leave YOUR Comfort Zone! We love providing our full service catering for Maui wedding receptions anywhere on Maui.
In addition to great food, we provide tents, canopies, linens, china, silverware, tables, seating and more.
We Plan it!
We Cook it!
And Then We Serve it!
In other words, we do all the work on your special day, leaving you free to relax and enjoy the ceremony and time with family and friends! We believe a wedding and wedding reception should reflect the couple's personal tastes, which is why we tailor our menus and catering to your style. At Comfort Zone Maui catering, we provide many exciting options to make your wedding menu as unique, personal and memorable as your wedding ceremony in Maui.
We provide the following, and more, to make your catered Maui wedding reception delectable and hassle free:
Plated dinners customized to suit your taste
Catered buffets, any style and taste
Specialty themed bars (Seafood stations, Mexican grill, Sushi Bar, Carving Stations and More!)
Luau weddings
Maui wedding officiates
Wedding planning included with catered weddings

Customized menus for Gluten Free or other dietary needs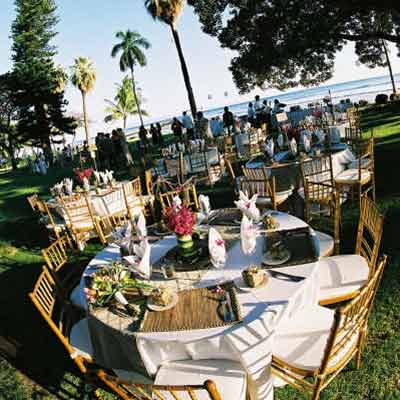 Our wide variety of options are specially designed to work with any budget, ensuring the best possible service for catered Maui wedding receptions. You can learn more about these options in detail here.In addition to catering for Maui wedding receptions, our experienced and capable chefs are at your service for unlimited large and small events, including Maui wedding rehearsal dinners, conference dining, corporate events or meetings, large event banquets, private dining, and pupu or cocktail parties, just to name a few. No event is too big or too small, we do it all! Cater your Maui event with Comfort Zone today!
Looking for a Maui Beach Wedding Venue? Download our FREE Beach Wedding Location EBook.