Are you ready for Maui Onions??
Only two weeks 'til the 22nd annual Maui Onion Festival! Leading up to the popular Maui event, hosted annually at Whalers Village in Kaanapali, CJs Maui restaurant is already participating in the inaugural Best Maui Onion Appetizer contest. The friendly Kaanapali Restaurant competition rewards the winning Maui chef with bragging rights to claim the 'Best Maui Onion Appetizer'!
When you visit any of the participating Kaanapali restaurants and try one of the Maui Onion Appetizers entered in the Maui Onion Challenge, be sure to enter a drawing to win 2 roundtrip tickets to one of Alaska Airlines' destinations.
Chef CJ's Maui Onion Prawn Quiche recipe:
MAUI ONION PRAWN QUICHE


by Chef Christian Jorgensen of CJ's Comfort Zone Deli & Diner Maui Restaurant
1 Full Pie – Maui Onion Prawn Quiche:

Serves 8
1 8" Pie Shell in Foil Pan
2 Medium Size Maui Onions
1 Stalk Leek
1 Stalk Celery
1/2 Pound Prawns 21-25 size
4 Oz. Pancetta or Apple wood Bacon
2 Tablespoon Olive Oil

1 Tablespoon Chopped Garlic
1 1/2 Cup Heavy Whipping Cream
8 Whole Eggs
1/4 Cup Grated Romano Cheese
1 Oz. Danish Blue Cheese
2 Oz. Chopped Fresh Thyme and Oregano
To Taste: Salt / Pepper / Pinch of Nutmeg

Preparation:

1.

Dice bacon in small size; cook in heavy duty saute pan until brown and crispy. Remove Bacon.

2.

Using same heavy duty saute pan, saute diced Onions, Leeks, Celery, Garlic and Herbs in the bacon fat (5 min).

3.

Over high heat, quickly 'wok fry' the Prawns. Add the shrimp to the Vegetables and cool down.

4.

After cooked ingredients cool, mix in the Cream, Eggs and Cheese. Add Salt & Pepper to taste along with a dash of Nutmeg.

5.

Pour mixture into the Pie Shell, bake in oven at 375 Degrees for 25 minutes.

6.

Cool a bit before cutting and serving.

7.

Serve with Arugula and Caramelized Maui Onion Vinaigrette.

Keep refrigerated for up to 2 weeks!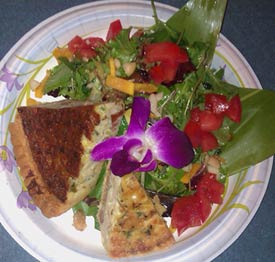 If you can't get into CJ's Comfort Zone Maui restaurant, be sure to stop at our booth at the 2011 Maui Onion Festival, on May 7th, to try our Maui Onion Prawn Quiche appetizer. When you get home and try the recipe, please leave comments to tell us how our hearty comfort dish fared when you served it to your family!
If you enjoyed this Maui Onion recipe, be sure to check out other recipes. Or, subscribe to our Maui event and wedding planning blog!